Putin last visited Pyongyang in 2000
At the Wednesday meeting, Kim Jong Un invited Russian President Vladimir Putin to visit North Korea. At the same time, Western countries and Japan are increasingly worried about possible military cooperation between the two leaders.
According to a North Korean agency KCNA Putin accepted Kim's invitation, but the Kremlin has not yet confirmed this news. Since the start of the Russian military invasion of Ukraine last February, Putin has rarely traveled abroad. Shortly after assuming the presidency, in 2000, Putin was already on visit to Pyongyang where he met with Kim's father Kim Jong Il.
Putin and Kim and you on Wednesday on the cosmodrome Eastern viewed Russian space technology, and Kim also expressed his belief that Russia would achieve a great victory over its enemies. "We will always be with Russia," Kim added on footage broadcast by Russian television. According to Russian news agencies, during the visit to Kim, Putin promised Moscow's help in developing North Korea's space program. The Russian president told reporters that he sees possibilities for military cooperation between the two countries.
A historic alliance
With a toast on Kim then invited Putin to a state dinner on visit to North Korea, "when the time is right". According to reports KCNAPutin accepted the invitation with satisfaction and emphasized that he will nurture the historical friendship between the two countries. After the meeting, Kim traveled from Easternwhere, they did not specify.
Russia and North Korea is a historical ally, and the international community has imposed sanctions on both of them – against Moscow because of the conflict in Ukraine, against Pyongyang because of its nuclear program.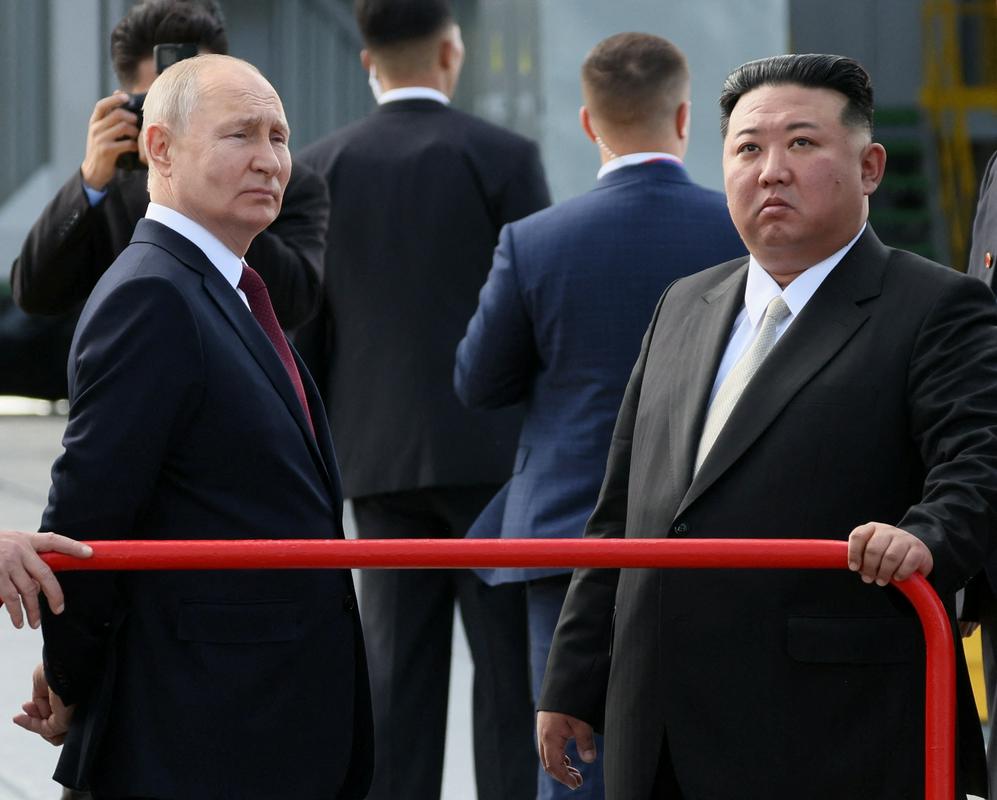 But Kim's visit to Russia has raised concerns in several parts of the world that the country could be entering into arms deals. In Washington, Pyongyang has thus been accused of supplying Russia with weapons, although it is not confirmed whether North Korea has actually already sent any shipments to the Russian army. Both Moscow and Pyongyang denied that they had already concluded arms deals, but the two leaders agreed yesterday to deepen cooperation on defense field.
A spokesperson for the US State Department Matthew Miller he also expressed concern about the cooperation of the two countries on in the field of satellites, which would mean a violation of United Nations resolutions. He emphasized that in case of violation of the resolutions, the USA will not hesitate to impose sanctions against Pyongyang and Moscow.
Concerns over Kim's talks and Putin was also voiced by Japan's new foreign minister Crying Kamikawa. "We are watching the talks with concern, including the possibility that they could lead to violations of the UN ban on arms sales to North Korea and materials related to it," she said.
Criticism of Moscow
on

American words

Russian Ambassador to the United States Anatoly Antonov is in response on Telegram accused Washington of duplicity because, while it supplies weapons to Ukraine, it calls Russia's military-technical cooperation with its partners illegal. "It is high time for Washington to lift economic sanctions and consider establishing equal relations with other countries," he added.

Amid rising tensions with North Korea, the United States on Wednesday approved the sale of F-35 military aircraft to South Korea worth a total of five billion dollars. The State Department has informed Congress that it has given the go-ahead for the sale of 25 Lockheed Martin aircraft and engines and related equipment. In a press statement, the US State Department said the sale would improve South Korea's ability to deal with current and future threats, as it will provide credible defense capabilities to deter aggression in the region and interoperability with US forces.


Source: Rtvslo