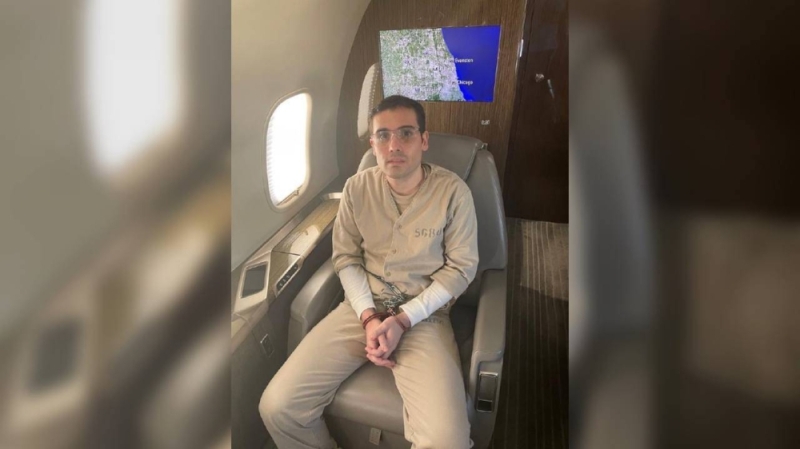 Ovidio Guzman López "El Raton", son of Joaquín "El Chapo" Guzman
They released a photo of Ovidio Guzman López "El Raton", the son of Joaquín "El Chapo" Guzman. He was extradited from a prison in Mexico to the United States, where he is being tried on charges of fentanyl trafficking. Methamphetamine, cocaine, marijuana.
Official sources from the federal government confirmed to the newspaper Proceso that Interpol agents arrived at the Altiplano federal prison in the afternoon to comply with the extradition order.
Currently, Ovidio Guzman is already in the city of Chicago, but he has also been indicted in New York and Washington, DC.
The U.S. government has a total of 11 charges against him related to drug trafficking and managing criminal enterprises, as authorities identify him as the heir to the Sinaloa Cartel, an organization founded by his father. Criminal charges are being filed.
Ovidio Guzmán was arrested in Culiacan, Sinaloa state on January 5, marking the second time he has been detained by federal forces. The first time was in October 2019, but he was released hours later on orders from Mexican President Andrés Manuel López Obrador to avoid escalating violence as cartels tried to rescue him.
The U.S. government said in an investigation that Ovidio Guzmán coordinated the transportation of fentanyl, marijuana, cocaine and methamphetamine into this country for the Sinaloa cartel, and that he and his three brothers were released from federal prison. suggested that he was involved in his father's escape. of Altiplano in 2015.

Source: Diario.Elmundo