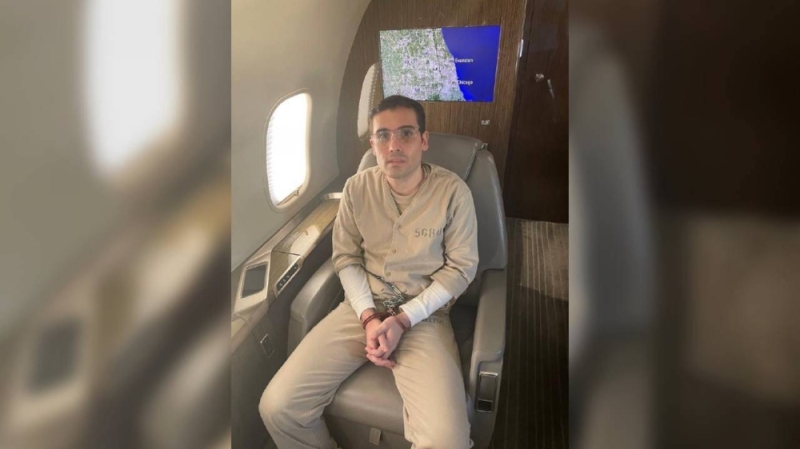 Ovidio Guzman López "El Raton", son of Joaquín "El Chapo" Guzman
Mexican Ovidio Guzman López, the son of drug trafficker Joaquín "Chapo" Guzmán, appeared in a U.S. court on Monday and pleaded not guilty to drug trafficking, money laundering and firearms charges, the Justice Department said. reported.
A court in the Northern District of Illinois (Midwest) sentenced Guzmán López, known as "El Raton," to a "continuing criminal enterprise" of drug trafficking from about May 2008 until at least October 21, 2021. accused of participating in. pointed out in the statement.
He also faces charges of drug trafficking, money laundering, firearms use, and distribution of cocaine, heroin, methamphetamine, and marijuana.
In the Southern District of New York, he is also accused of distributing fentanyl, a synthetic opioid 50 times more powerful than heroin, which is wreaking havoc in the United States.
Extradited from Mexico last Friday, El Raton is the best-known member of the Los Chapitos clan, which also includes brothers Joaquín, Iván Archivaldo and Jesús Alfredo Guzmán.
After the arrest of "El Chapo" Guzman, who is currently serving a life sentence in the United States, the United States accused him of directing the Sinaloa Cartel along with Zambada Garcia and Damaso López Nuñez (also known as "Licenciado"). are blaming them.
Over time, "Los Chapitos" became absolute rulers of the Sinaloa Cartel and "are suspected of threatening and violating López Nuñez, his family and associates," the statement added.
Ovidio Guzmán López was arrested in Mexico last January and imprisoned in the Altiplano prison in the center of the country.
He had already been arrested in 2019, but was released on orders from Mexican President Andrés Manuel López Obrador to avoid bloodshed when military personnel were surrounded by armed figures.
Washington thanked Mexican authorities on Friday for the extradition and again on Monday in a phone call from Attorney General Merrick Garland to Mexican Attorney General Alejandro Goertz Manero, the statement said.
His extradition came days after his father's wife, Emma Coronel Aispuro, was released from a California nursing home after serving nearly two years of a three-year sentence for drug trafficking and money laundering.
Coronel, 34, is not Guzmán López's mother and has dual American and Mexican citizenship.

Source: Diario.Elmundo