Warnings against the rapid deterioration of public health in the affected area
In the city of Derna in the east of Libya, which was hit by devastating floods, several hundred protesters set fire to the house of the local mayor, whom they blame along with other representatives of the city authorities for not initiating an evacuation before the expected heavy rains.
At a rally on Monday evening, protesters demanded that the prosecutor's office reveal as soon as possible the content of the investigation into the disaster, when two dams collapsed over the city after a storm and water flooded a wider area. At the same time, the protesters demanded legal action against those responsible.
Some protesters set the mayor's house on fire Derne Abdulmenam Al Ghaithia, who is accused of knowing about the coming heavy rainfall, but did not order an evacuation, instead telling people to stay at home. Among other things, the protesters at the rally called for unity in the country. "Neither east, nor west, Libyan unity," they exclaimed.
Oil-rich Libya has been plunged into chaos since the overthrow of autocrat Muammar Gaddafi in 2011, with the country divided between a government in the east in Tobruk led by General Khalifa Haftar and the internationally recognized government in Tripoli.
Members of the United Nations, who wanted to help eliminate the consequences of catastrophic floods in the Libyan city of Derna, were denied access by the authorities. Their colleagues, who have been involved in search and rescue there for the past few days, can continue their work in the meantime.
Today there are several journalists who have been reporting from Dernea message that the authorities ordered them to leave the city, which Benghazi, the seat of the eastern government, denied.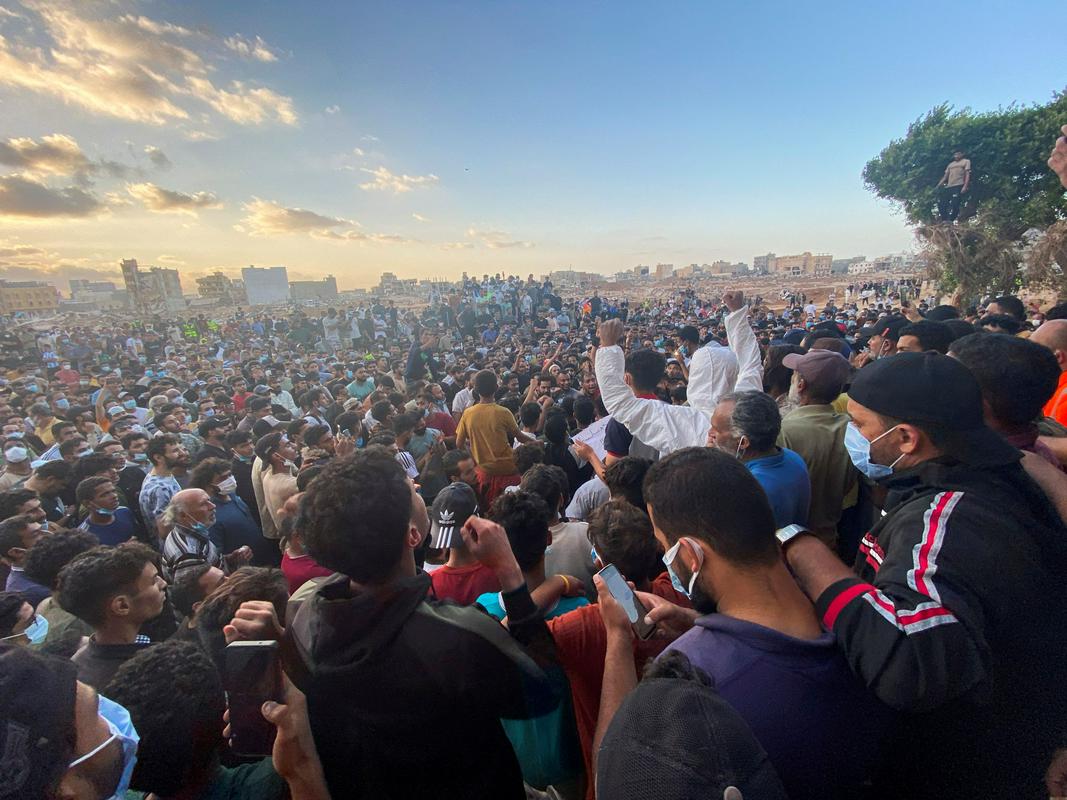 Deterioration of conditions in the affected area
On Monday, the eastern government's Ministry of Health said 55 more bodies had been found, bringing the death toll to 3,338 according to their figures. However, authorities expect the final number to be much higher.
The International Rescue Committee (IRC), a non-governmental organization, warns of a rapid deterioration of public health in the affected area. "Recent floods have seriously polluted water sources with sewage, making it unsafe for consumption," they warned.
Even the United Nations is concerned about a possible outbreak of disease in connection with contaminated water. Several thousand people are currently without access to drinking water. It is in Derna for now at least 55 children fell ill due to contaminated water.
Ten days ago, storm Daniel hit Libya and caused floods that mainly affected the eastern part of the country. Several thousand people have died and thousands are missing. Data on the number of victims differ from source to source. The floods affected mainly Dernawhere water from the collapse of two dams inundated a city in which about 100,000 people previously lived.
Source: Rtvslo